About us
The founder of Vliegsimulator.nl is Eveline van de Boom. In 2006 she received her first flying lesson as a birthday present; a beautiful flight over Rotterdam. Well, that was awesome!
Besides her work as founder / owner of the online payment institution TargetPay she started her flight training in 2008. In 2010 she obtained her PPL pilot license in Lelystad. In 2011 she acquired her first own aircraft in Poland, an Aero AT-3, with the callsign SP-ACY. This aircraft still flies in the Vliegsimulator.nlfleet with the callsign PH.EVB.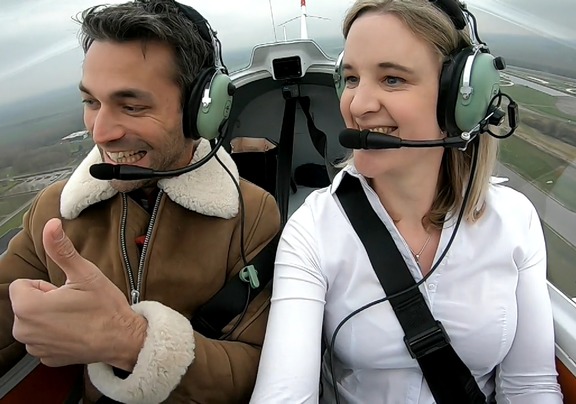 Flying lessons
As a pilot, Eveline visits many flying schools. There, she noticed the need for a specialised shop for flight lessons. Flight schools often run on volunteers or are too busy to arrange bookings themselves.
Everything you buy from us has to be a party!
Expertise is also important, because a flying lesson is not cheap. So you only want the very best, for a fair price. With her 15 years of experience in e-commerce, web shops and online payments, Eveline decided to build a booking platform herself. Thus www.vliegles.nl was launched in 2013. By now, thousands of flying lessons have been booked through Vliegles.nl and we even released our own theory booklet. Our motto: everything you buy from us has to be a party!
Collaborate
Do you offer flying lessons or parachute jumps and do you want to cooperate with us? Then please contact us.