4.9 (21)
Fly in a Boeing 737-800 simulator under the guidance of an experienced instructor.
Did you dream of a job as a pilot of a large passenger plane from a young age? Or do you just want to experience for yourself what it feels like to land the most popular passenger plane? Then take a flying lesson in the Boeing 737NG simulator! Come to The Hague to take this flying lesson.
Realistic
With over 10,000 units, the Boeing 737 is the world's best-selling commercial aircraft . The Boeing 737 Next Generation is the third generation of the Boeing 737. The simulator is an exact copy of the cockpit in which all systems and instruments are fully operational.
The simulator gives a very realistic flying experience. In consultation with the instructor, you decide how many auxiliary systems you want to use. For example, go flying with the autopilot, autothrottle and flight director or fly the Boeing completely manually. In manual 'raw data flying', you'll see what's involved in keeping a large aircraft under control. The 737 features a 210-degree vision system, putting you right in the middle of the action. You forget it is a static simulator. Furthermore, the simulator features dual controls, and all the buttons and systems are just like in the real aircraft. This makes flying on this simulator a fantastic experience you won't soon forget!
Theory
Reception at the flight school is with a nice cup of coffee, tea or soda. You will then receive a briefing on the basics of flying a Boeing 737NG. In this briefing, the instructor will answer the most important questions: what are all the buttons, lights and other instruments for? Of course, you can also ask all your questions yourself. If you bring someone along with you, they can of course also attend the introduction. Then you both know what you are going to experience 'in the air'. You don't have to pay extra for this. The duration of this explanation is tailored to the time of your flying lesson.
Practice
Then you get into the simulator; depending on the duration of your flying lesson, different trajectories are possible. For example, during a 60-minute flight lesson, you can fly from Brussels Airport to Amsterdam Schiphol Airport. This is a challenging route where you have to work hard with all the checks. Of course, the instructor will help you with everything. This simulator is also used to train the pilots who take you safely to your holiday or work destinations. From now on, you will know what it is like in the cockpit.
After your flight, you and the instructor go over the main points together. In this debriefing, the instructor summarises the flight lesson and gives tips and tricks for next time. How long the flying lesson lasts is up to you. The minimum is 60 minutes. But the longer, the more fun of course!
Specifications
Spoken languages
This experience is available in these languages.
Persons
1 - 4
Season

All year

Only available during in its season. Please check the validity of your voucher.
Age
From 12 on
Participation
Flying lesson
How you participate: is it a flying lesson or do you fly along.
Time
Block Time
Indicates whether the time periods listed are block times or flight times. Flight time is the time in the air. Block time means from engine on to engine off, thus including taxiing.
Valid for
2 years
How long the voucher is valid after issue. Dit geldt alleen voor nieuwe bonnen.
Compare
Remarks
The selected time is the flight time in the simulator. The theoretical part and the discussion afterwards are added.
The flying lesson is for 1 or 2 persons. You may also take 1 or 2 passengers. You can swap pilots during the flight. Book a minimum of 30 minutes per person for sufficient flight time per pupil
Taking this flying lesson is possible from the age of 12. For younger children is too complex and therefore less fun
This lesson can also be given in English
This package is not suitable for professional pilots or as preparation for grading. Are you looking for opportunities to prepare for a grading or job application? Then get in touch with us
Location
Den Haag
Reviews
| | | |
| --- | --- | --- |
| 5 stars | | 19 |
| 4 stars | | 2 |
| 3 stars | | 0 |
| 2 stars | | 0 |
| 1 star | | 0 |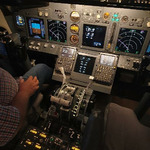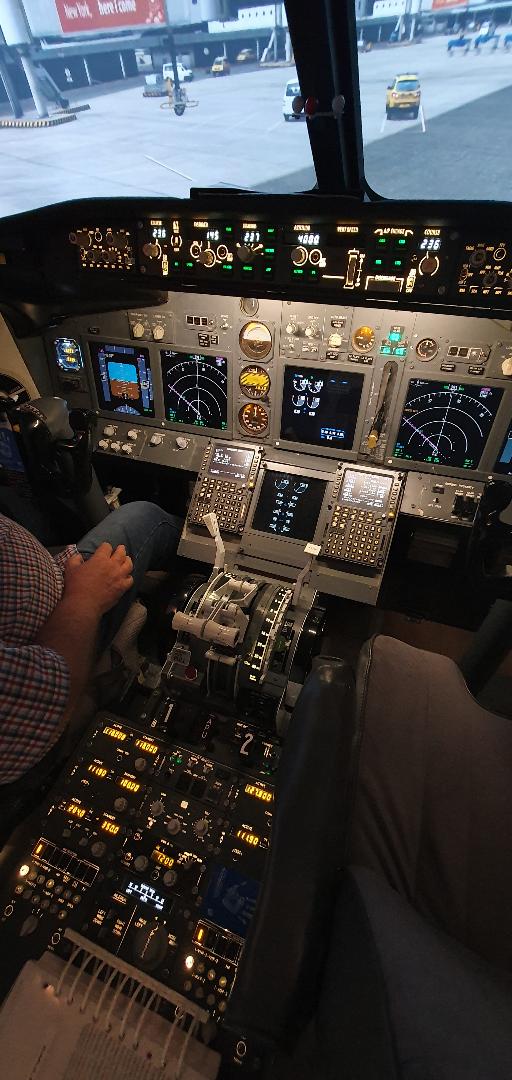 Hannah
Nieuw-Beijerland
· June 2023
Wat een waanzinnig leuke ervaring! Het is gewoon echt, de ervaring een vliegtuig zelf te vliegen. De begeleiding was zeer professioneel, vriendelijk met zeer veel kennis. Topervaring!
De begeleiding, de kennis die Peter bezit, de ervaring.
What an insanely fun experience! It's just real, the experience of flying a plane yourself. The guidance was very professional, friendly with a lot of knowledge. Top experience!
The guidance, the knowledge Peter possesses, the experience.
Translated from dutch.
View original
· June 2023
Mega leuke ervaring gehad met een zeer vaardige en aardige instructeur, die de vlucht en wat hij verteld goed afstelt op wat jij er van verwacht en wat jouw doelen zijn.
Aardige en professionele instructeur
Uitleg op maat van voorkennis en verwachtingen
Goed functionerende simulator
Mega fun experience with a very skilled and nice instructor, who tailors the flight and what he tells you well to what you expect from it and what your goals are.
Nice and professional instructor
Explanations tailored to prior knowledge and expectations
Well-functioning simulator
Translated from dutch.
View original
· May 2023
Geweldige ervaring, zeer goede en duidelijke uitleg en superrealistische vlieginstructie van de instructeur. Er waren meerdere demo's met diverse apparatuur aanwezig en natuurlijk, "de simulator". Een aanrader voor iedereen die hier ooit interesse in heeft. Vriendelijke goed ontvangst en goed bereikbaar de locatie.
Alles de ervaring van vliegen en uitleg en de apparatuur en de locatie.

Absoluut geen minpunten te melden, alles perfect geregeld.
Great experience, very good and clear explanations and super realistic flight instruction from the instructor. There were several demos with various equipment present and of course, "the simulator". Highly recommended for anyone ever interested in this. Friendly good reception and easily accessible the location.
All the experience of flying and explanation and the equipment and the location.

Absolutely no minuses to mention, everything perfectly arranged.
Translated from dutch.
View original
· February 2022
Goed!
Intensief en toch relaxed.

Geen.
Good!
Intensive yet relaxed.

No.
Translated from dutch.
View original
· November 2021
Het was een geweldige ervaring.
Na een uitgebreide inleiding vlieg je zelf in een 737. Volkomen levensecht. Als je nog geen vliegfanaat was, word je het hier wel. Absolute aanrader
Heel goede en vriendelijke begeleiding. Deskundige inleiding en vooral veel spannende starts en landingen.

Geen enkele
It was a great experience.
After an extensive introduction, you fly yourself in a 737. Completely lifelike. If you were not already a flight fanatic, you will become one here. Absolutely recommended
Very good and friendly guidance. Expert introduction and especially many exciting take-offs and landings.

No single
Translated from dutch.
View original
· October 2021
Super
De voorbespreking waar de technische aspecten werden besproken. de uitleg tijdens de vlucht. echt heel goed.
Super
The pre-meeting where technical aspects were discussed. the explanations during the flight. really very good.
Translated from dutch.
View original
4.9 (21)
Fly in a Boeing 737-800 simulator under the guidance of an experienced instructor.
No experience needed

29,090 bought

Specialist in flying lessons

English speaking instructors